Crew,
I sit down to write this email not far from where I once sat down to write the first few lines of code for Shopify itself. These lines of code created a business and sent it on a fascinating journey full of wonder, toil, success, failure, ambition, and above all, camaraderie. Being on the road, surrounded by great teammates, doing hard things, that's what it's all about.
All of which makes this email much harder to write: the next part of the journey will involve fewer teammates than we picked up along the way. Shopify is due to undergo a downsizing which will see around 10% leave by the end of the day. Most of the impacted roles are in recruiting, support and sales, and across the business we're also eliminating overly specialized and duplicate roles, as well as some groups that were convenient to have but too away from building products. Emails will be sent in the next few minutes that will let you know if your role has been assigned; the people concerned will then have a meeting with a manager of their team.
For a company like ours, this news will be difficult to digest. It will be even harder for those who leave today. I'll share as many details as possible about how we got here and, for those leaving, what happens next.
How we got here
When the Covid pandemic took hold, almost all retail businesses moved online due to shelter-in-place orders. Demand for Shopify has exploded. To help merchants, we've thrown away our roadmaps and shipped anything that might be helpful. It was tough, but we know for a fact that more merchant businesses have survived the pandemic thanks to the work we've done during this time and that's exactly what our mission is all about.
Shopify has always been a company that makes the big, strategic bets that our merchants demand of us – that's how we succeed. Before the pandemic, e-commerce growth was steady and predictable. Was this surge a temporary effect or a new normal? And so, given what we've seen, we've placed another bet: We're betting that channel mix — the share of dollars flowing through e-commerce rather than brick-and-mortar retail — would jump in before permanent 5 or even 10 years. We couldn't know for sure at the time, but we knew that if there was any chance it was true, we had to expand the business accordingly.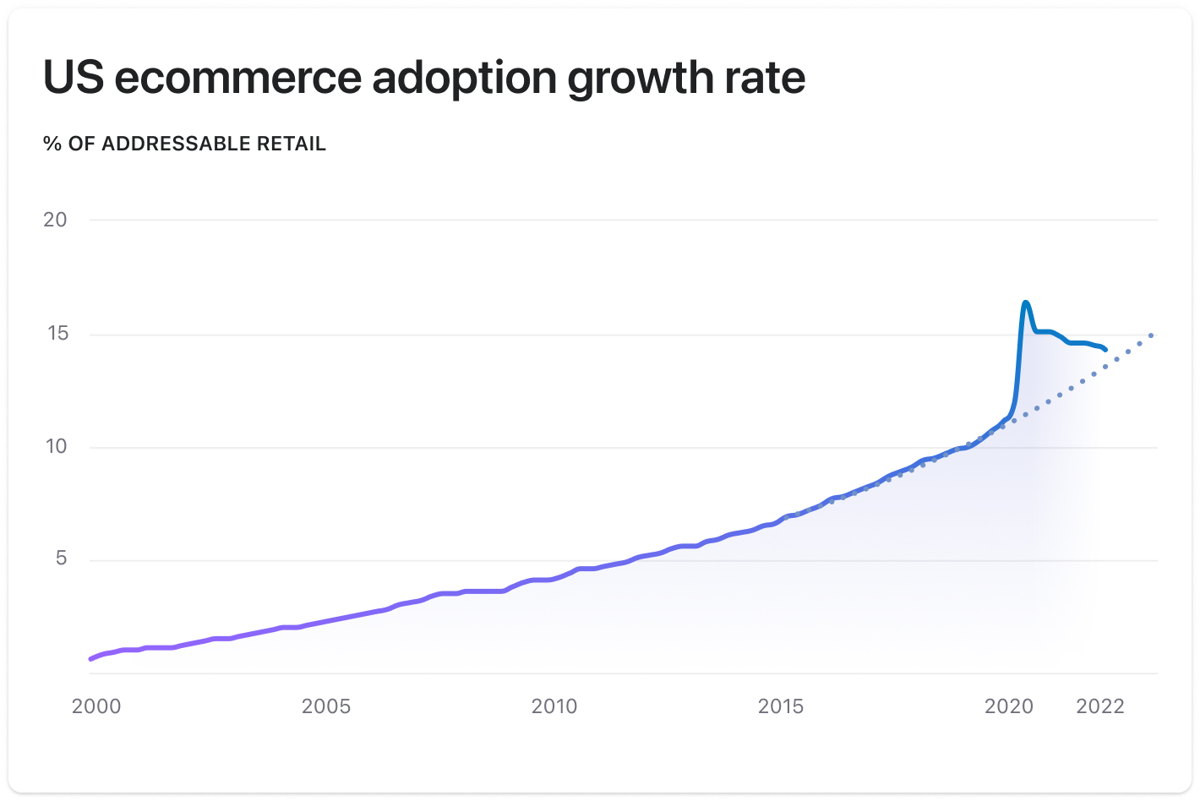 It is now clear that the bet did not pay off. What we're seeing now is that the mix is ​​back to roughly where pre-Covid data would have suggested it should be at this point. Still growing steadily, but it wasn't a significant 5-year leap forward. Our market share in e-commerce is much higher than in retail, so that's important. In the end, placing that bet was my call to make and I was wrong. Now we have to adapt. Accordingly, we have to say goodbye to some of you today and I am deeply sorry for that.
To those leaving Shopify
Everyone will feel this news in their own way, but what is universally true is that it will be hard for everyone. We want to support each of you over the coming weeks and months as much as possible, which is why we are offering a generous severance package. Those affected today will receive 16 weeks of severance pay, plus an additional week for each year of service with Shopify. We will remove any equity limits and extend all medical benefits.
Knowing that Shopify is just one step in a career journey, we'd also like to help everyone succeed as they take the next steps. We will offer you outplacement services with access to career coaching, interview assistance, CV writing, etc. And because each path taken requires a few basics, we will continue to pay internet costs for the period, the home office furniture we have provided is now yours, and even though we will have to collect our equipment, we offer a start-up allowance that can be used to buy new laptops. If you wish, you can add your email addresses to a list that we will share with other companies looking for talent. And for those who find themselves drawn to the path of entrepreneurship, Shopify also covers a free account for everyone.
I want to express my sincere gratitude to each and every one of you for all you have given to support merchants and our mission to make commerce better for everyone.
And after
Our opportunity is huge and it's still early days for Shopify. Every team here is now either focused on creating products or directly supporting those who do. Our customers are merchants, entrepreneurs and small business owners – the foundation of our economy and precisely those who are usually hardest hit during recessions. Most already feel it. We again have a clear focus in these difficult macro times, and we will use everything we have to help them succeed and emerge stronger. This is our main mission.
The entrepreneurs we serve are remarkable individuals. They inspire us individually and as a company to be the best versions of ourselves. We've adapted many times, in many ways, during Shopify's intense growth journey. Most of the adaptations we've had to make have been about becoming something bigger. This time we become something more focused, more driven, and more singular in mission. The times demand it of us, and we will rise to the occasion once again.
-tobi
Shopify CEO